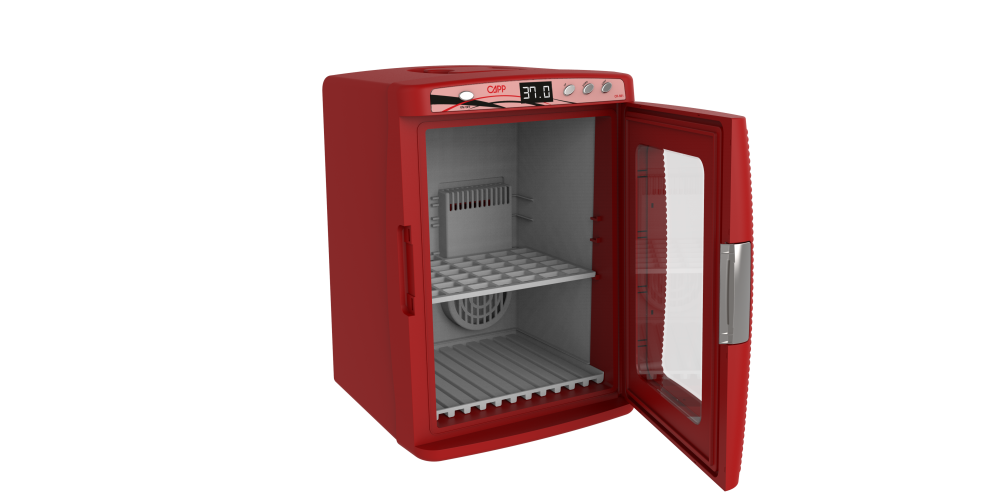 New: the CAPPRondo Mini Incubator
The new CAPPRondo Mini Incubator is a compact, multifunctional device that will be an excellent addition to any laboratory. Featuring built-in digital temperature control and a wide thermal range (-15°C to 60°C), the CAPPRondo Mini Incubator is more than capable of meeting daily heating and cooling tasks.
The CAPPRodno Mini Incubator has a clear LED control panel which displays the internal temperature in real time. This allows your staff to regulate the temperatures while experimenting.
Furthermore, the CAPPRondo Mini Incubator is only 13 x 14.5″ and weighs just 6.5 kg, this way it fits easily on every laboratory workbench and can be moved conveniently. With a volume of 25 liters it can accommodate several samples on its adjustable shelves, from small vials to 2L bottles. It also features an internal power outlet for powering small instruments while incubating or cooling samples.
Therefore the new CAPPRondo Mini Incubator has many great features that make it fit well in any laboratory. Manufactured to CAPP's stringent level of quality, our customers can expect this powerful mini incubator to serve their laboratories for a very long time.
Go to our webshop, and shop online!